The Stratus Tri-flow tap from APL in a Brushed Nickel finish - Reverse osmosis pure water compatible - 5 year Guarantee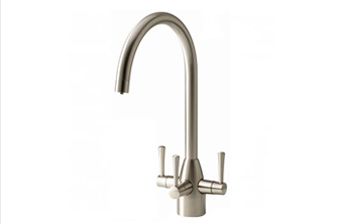 The Stratus Tri-flow tap from APL in a Brushed Nickel finish - Reverse osmosis pure water compatible - 5 year Guarantee
The Stratus Tri-flow tap from APL in a Brushed Nickel finish, gives you hot, cold and filtered water all from one well designed tap. The 3rd lever design provides the abilty to connect a drinking water filter system and then filtered drinking water can be  despensed from the middle lever.
Reverse osmosis pure water compatible

SPECIAL OFFER : Please feel free to add a drinking water filter system to your tri-flow tap purchase and you will receive 1 x replacement filter cartidge free of charge with your order.
A high quality tap ideal for under sink water softener systems. This tap is made for both vented and unvented water systems.
Reverse osmosis compatible
5 year Guarantee

 •Min / Max water pressure – 0.50 / 5.5bar
•Valve type: Ceramic Disc
•Fitting type: Monobloc
•Flow type: Dual Flow
•Supplied pipe tails: Copper 15mm
•Base diameter: Ø 56mm
•Tap hole size: Ø 35mm
•Aerator built-in: Yes
•Spout rotation: 360°
•Tap height: 398 mm
•Spout reach: 217 mm
•Finish: Chrome or Nickel
Reviews