KINETICO AQUATASTE DRINKING WATER FILTER SYSTEM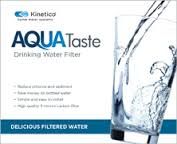 KINETICO AQUATASTE DRINKING WATER FILTER SYSTEM
It's the same as bottled water but on tap! The Kinetico AQUA range delivers great tasting water without the hassle.
No More Filter Jugs or Bottled Water
Great Tasting Water
Simple to Use, Easy to Install
Easy to Change Filter Cartridges
AquaTaste Water Filter 
Delicious tasting water that is more cost effective than bottled water. Improves the taste, appearance and odour of your water by reducing chlorine and sediment from your drinking water.
Reviews