KINETICO AQUAGUARD DRINKING WATER SYSTEM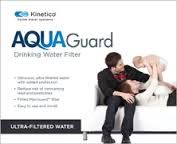 KINETICO AQUAGUARD DRINKING WATER SYSTEM
It's the same as bottled water but on tap! The Kinetico AQUA range delivers great tasting water without the hassle.
Removes limescale and impurities from your water. Keep your kettle in pristine condition with this limescale reducing filter. It will also take out the impurities and chlorine from your water improving the taste of all your favourite drinks.
Reduce Limescale
No More Filter Jugs or Bottled Water
Great Tasting Water
Simple to Use, Easy to Install
Easy to Change Filter Cartridges
AquaGuard Water Filter
A quality water filter with added protection for all the family. Delicious, ultra-filtered water with an extra level of protection to reduce the risk of you consuming chlorine, lead, compounds (VOC's) and cysts.
Reviews