GROHE BLUE HOME - FILTERED CHILLED SPARKING WATER - MIXER TAP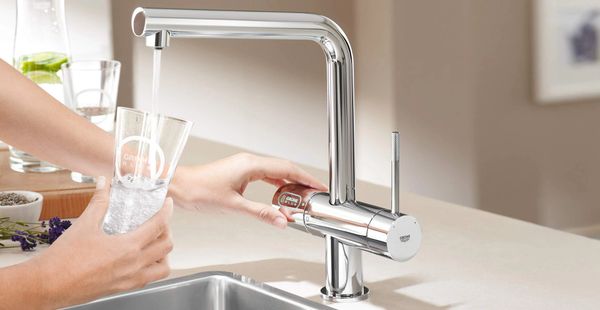 GROHE BLUE HOME - FILTERED CHILLED SPARKING WATER - MIXER TAP
THE SOURCE OF REFRESHMENT - CHILLED SPARKLING FILTERED WATER
** SPECIAL PROMOTION - INCLUDES FREE INSTALLATION** (13 amp plug socket socket- NOT INCLUDED IN INSTALL)

Water is the source of life: fresh, free-flowing and essential. At GROHE we believe it should be the refreshing, health-giving heart of every kitchen. That's why we've developed our GROHE Blue range of water systems, bringing you great taste, convenience and vitality at the turn of the tap. Whether you want filtered, chilled or sparkling water, GROHE Blue has the perfect solution to make drinking water a joyful experience.
PERFECTLY CHILLED – JUST AS YOU LIKE IT
Imagine the refreshing sensation of chilled water – cool and thirst-quenching. Ready and waiting for you at the touch of a button – at exactly the right temperature. Think of the glass misting over with minute water droplets and of that first delicious cold gulp.
Chilled water on demand – how refreshing is that then?
The magic is the filter
Our special filter uses a five-step filtration process. It ensures that every glass of GROHE Blue Home water offers the same unparalleled standard of purity and taste.Find out more about the filter in this video.
Perfect Water
It's so easy to get your glass of perfect water
Simply use the buttons on the handle.
For cool, still water: just push the top button. The LED lights up blue, filling your glass with pure refreshment.
Your choice is medium sparkling? Press both buttons in sequence – the LED lights up turquoise - to produce a finely pearled stream of water.
For water that bubbles with refreshment: just press the lower button – the LED lights up green – for your perfect glass of sparkling water.
Reviews