HAWKER SUPERTWIN - NON ELECTRIC TWIN CYLINDER BLOCK SALT SOFTENER - 5 YEARS PARTS AND 5 YEARS LABOUR GUARANTEE - FREE INSTALL KIT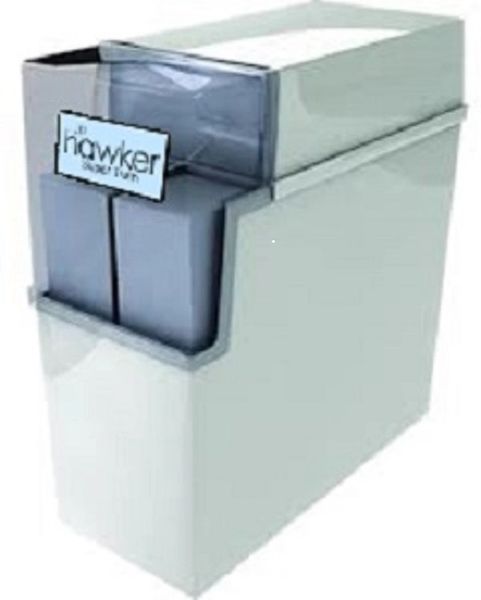 HAWKER SUPERTWIN - NON ELECTRIC TWIN CYLINDER BLOCK SALT SOFTENER - 5 YEARS PARTS AND 5 YEARS LABOUR GUARANTEE - FREE INSTALL KIT
HAWKER  SUPERTWIN  - SERVES FROM 1 TO 10 PEOPLE AND HOMES WITH  UPTO 3 BATHROOMS - 5 YEARS PARTS & 5 YEARS LABOUR GUARANTEE
THE TWIN CYLINDER NON-ELECTRIC WATER SOFTENER (INSTALLATION SERVICE AVAILABLE)
The Hawker Super twin Non Electric Twin Tank Block Salt Softener differs in a number of ways from the traditional single tank units. The most obvious difference is the two tanks.
A single tank softeners cannot supply soft water whilst performing a regeneration program. All softeners need to perform regeneration as they all have a limited amount of water that they can soften. Regeneration effectively cleanses the resin to allow it to continue to produce soft water. A single tank machine will perform this action normally in the early hours of the morning. The disadvantage of this is you have the possibility of the softener doing this either before it has used up its full capacity or worse still running out if you suddenly use more water than the machine thinks you will ( sometimes you don't know when extra guests turn up so you can't expect a machine to.)
Because the Twin tank has Two tanks it can regenerate at any time of day or night as only one tank at a time is in service. When it has reached its capacity it performs a regeneration whilst the other tank continues to supply you with soft water.
GUARANTEE
we are a family business and aim to provide a first class service to all our customers, all our softener sales, site surveys, installations, after sales care & salt deliveries are all performed by us, Our  Water Softener caries a full 5 year parts and 5 years labour guarantee
The water softener is manufactured in the UK BY HARVEY WATER SOFTENERS and is therefore designed specifically for the UK market. And for our domestic water system it also means that we, unlike other companies, "wet test" the softeners before they leave the factory. So you can rest assured that the water softener firstly works but more importantly it doesn't leak.
Reviews