410 HAGUE MAXIMISER - SMART WATER SOFTENER - FREE DELIVERY - FREE INSTALLATION KIT - SERVES UP TO 5 BATHROOMS -ACCEPTS BLOCK OR TABLET SALT - USES UP TO 50% LESS SALT THAN ALL OTHER WATER SOFTENERS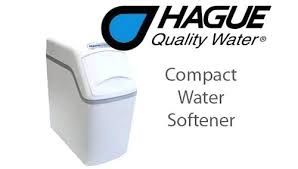 410 HAGUE MAXIMISER - SMART WATER SOFTENER - FREE DELIVERY - FREE INSTALLATION KIT - SERVES UP TO 5 BATHROOMS -ACCEPTS BLOCK OR TABLET SALT - USES UP TO 50% LESS SALT THAN ALL OTHER WATER SOFTENERS
Hague Maximiser 410
Efficiency comes from maximum performance and minimal space. Limited space in the home should not mean the quality of water should suffer. At only 54.5cm high, 47cm deep and 29.2cm wide, the Hague Model 410 is a compact and versatile powerhouse small enough to fit in a kitchen cabinet yet designed to provide homeowners with maximum protection against hard water damage, even when short on space.
BLENDING BYPASS VALVE. Our full 1 inch valve features 1 inch porting throughout to maximise the water flow up to 65 litres per min
SYSTEM CONTROLLER.  Operates in three languages and retains cycle settings indefinitely, even through power outages. The time of day setting remains in memory for up to seven days without power.
WHOLE HOUSE, BUILT-IN, SELF CLEANING FILTER.  Filters dirt and sediment down to 20 microns – smaller than the human eye can see. Plus, there's never any cartridges to change and no maintenance is required.
SAFETY SHUT-OFF SYSTEM. To help prevent the possibility of any overflows, Hague Maximiser 410 features a safety shutoff – just the kind of detail you would expect from Hague.
FINE MESH RESIN. Our patented mineral tank with its screened distributor system allows us to pack more resin in the tank and backwash our unit with clean soft water, therefore eliminating the need for a second mineral tank.
GRID PLATE. The grid plate in the segregated brine tank compartment provides a clear well area to ensure consistent brine concentration
PATENTED DIRECTIONAL FLOW SCREEN
Start enjoying the benefits of soft water! Contact us today to learn more about the Hague Maximiser 410.
Reviews